Krewe du Jieux, the first of its kind, celebrated its 15th Anniversary in 2010. We're a free spirited parade organization dedicated to deflating the stereotypes that have been historically aimed at the Jewish people. Through laughter, satire and holy intentions, our goal is to co-opt and eradicate these stereotypes in our minds, and in the minds of others, so that we can live our lives empowered in ourselves, and hope someday to be able to live free from fear and persecution.
…the next time I visit the Big Easy, I definitely want to make an effort to meet more southern Jews.
~ Symi Rom-Rymer
In a recent article for Moment Magazine, Symi Rom-Rymer wrote, "…the next time I visit the Big Easy, I definitely want to make an effort to meet more southern Jews. Perhaps I'll even go during Mardi Gras to cheer on Krewe du Jieux, the Jewish krewe established in the 1990s that throws out painted bagels along with their beads. You can't really get more Jewish or New Orleanian than that."
While these are lofty goals, last year in Tablet Magazine, Justin Vogt wrote, "New Orleans could have used a Krewe du Jieux in 1968. That year, the journalist Calvin Trillin scandalized the Crescent City's small but prosperous and influential Jewish community with a New Yorker article that laid bare a peculiarly New Orleanian form of anti-Semitism." There are many ways to deal with anti-Semitism, but using Carnival as its public platform, Krewe du Jieux has embraced laughter and satire as its joyous approach.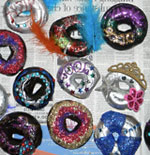 For our 5th Anniversary in 2001, our theme was, "Jieuxs in Space" and we masked as "The Cohenheads." In an article that originally appeared in the Jerusalem Post, view article, writer Tom Tugend explained, "Krewe Du Jieux' flaunted its mission statement: 'To kibbitz on strange new worlds; to seek out new life forms and sell to them retail; to boldly shlep where no one has shlepped before.' New Orleans may be the one city in America where Jews feel secure enough to play off their stereotypes at the largest public event of the year."  It has been a transformative experience for many people.
We have created a fun and fulfilling way of Jewish life here in New Orleans, and are blessed to be able to share it with our friends and with our community. We draw our inspiration in large part from the African-American parading Krewes, particularly the Zulu Krewe and the second line Social Aid & Pleasure Clubs, as opposed to the "mainstream" Krewes that historically excluded (the some who to this day still do exclude), Jews.
We have a Conservative Rabbi and an Orthodox Mashgiach who consult with us to ensure that what we do is pretty much kosher. Although we live on kosher's edge, we have had people parade with us ranging from secular to Chassidic to Gentile. We say you don't have to be a Jew to be a Jieux, and we do our best to mix the best of Jewish culture with the best of African American culture all within the paradigm of this very special New Orleans spirit. At its most complex, Krewe du Jieux is a venue to explore Judaism in a pluralistic, globally conscious and increasingly connected society. At its simplest, it is a group of wonderful people having an extraordinarily good time!
Joining fees for Krewe du Jieux mirror the Jewish Federation's modest $18.00, and while finely honed satire is wholeheartedly embraced during the Krewe's two Carnival parades, the Krewe arranges a year-round calendar of traditional events including: a Rosh Hashanah Apple & Honey Apology Party, a Yom Kippur Break Fast, a Community-wide Chanukah Second Line Parade, a Purim Parade and our most treasured event – a Seder for Passover, called of course, the "KreweSeder", that has been held in venues from the French Quarter to the Lower 9th Ward.